For a long time, I have wanted to create a Silverlight Tower Defense game, inspired by the Playstation 3 game – "Monsters".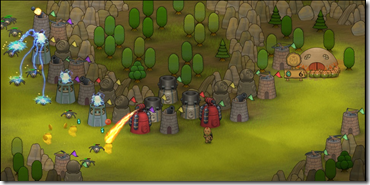 At the same time, I have wanted to try out "learn/develop in public" like Rob Conery did/do with the "MVC Storefront". I just never had a project suitable for this.
Little Longhorn is a Silverlight Tower Defense "Indian style" game (By "Indian" I mean indians and cowboys – western you could say). It's inspired by the PixelJunk Monsters game and I want to develop it "in public". The only thing I know about the game, at this point, is that it's going to be similar to "Monsters", have an "Indian theme" and that I will try to document my progress by doing blog posts and video casts.
Video casts
As stated, I will try to document my progress similar to what Rob Conery did/do with the MVC Storefront (today known as "Kona"). Rob's videos seems very polished and well structured, I will try to do that too, but don't expect big road maps, powerpoints, diagrams etc. I do this as a hobby project, so I will try to use the limited time I have as effective as possible. Mainly the videoes will be "by developers for developers", so all the fancy-stuff might be missing from time to time, if it doesn't directly help me prove my point. The main purpose I'm going to do these video casts about the project, is to be able, hopefully in a easy and simple way, to share my thought, ideas etc with you, the viewer/reader. Hopefully I will learn a lot from your feedback and hopefully you will learn about how, or how not, to build a game in Silverlight. Your feedback is really valued as it will help drive the development, so please don't stay back – just leave a comment.
One of the major downsides by "learning/developing in public" is the risk of total failure! This project might never get finished or may stall half way for some reason. I can't know that now, just like I don't know anything else about this project right now. That's the hole idea :)
But lets start with the first part in this, hopefully, long series of video cast about "Little Longhorn".
[Video has been removed due to Microsoft is closing down this free Silverlight Streaming service]
Note: After recording the video I can see that I walk pretty fast over collision detection, gameloop, interfaces, gameobject, relation between View and Model etc. The purpose of this video were to give a quick overview/intro to the code, the project and the thoughts behind. Please let me know if you would like videoes about these parts in particular.
Here are links to some of the blogs and sites I talk about in the video:
http://blog.wekeroad.com/category/mvc-storefront/page/2/
http://expression.microsoft.com/en-us/dd569746.aspx
http://www.farseergames.com/blog/2009/4/30/we-are-bugs-refactored-and-source-released.html
http://pixeljunk.jp/library/Monsters/
http://lostgarden.com/2009/03/dancs-miraculously-flexible-game.html
PS: Bear with me, this is my first video cast :)
– Enjoy!