Today I just discovered, from a Facebook/Twitt by Scott Hanselman, that Lenovo had published ATI drivers that apparently should make my switchable graphics work on my Lenovo T500.
I downloaded the driver from here: ThinkPad Switchable Graphics Driver for Windows 7 – ThinkPad R400, T400, T500, W500
When I tried to install it, it kept crashing on me. I tried all sort of things (reboot, changes in BIOS etc) but nothing worked. (I even asked Win7 to try to find a solution for my, but that didn't help either – who would have guessed ;) )
So, I googled it. I can't remember how exactly I found out, but the problem seems to be related to new version of the MFC80U.DLL. Some say it after they installed Visual Studio 2008 SP1 and some say it because you DON'T have VS2005 installed. The first could be the reason in my case.
The why to resolve this, in my case (and others apparently) is to install an update from Microsoft.
http://support.microsoft.com/kb/961894
This will guide you to this site: http://code.msdn.microsoft.com/Project/Download/FileDownload.aspx?ProjectName=KB961894&DownloadId=4445
From where I downloaded the: ENU (vcredist_x64.exe)
As I'm running Win7 64bit.
After I installed the update/fix, I could install the Catalyst drivers + software and I were a happy geek (not a nerd, as that just isn't cool! I just learned that here Hanselminutes on 9 – The Nerds of Tomorrow)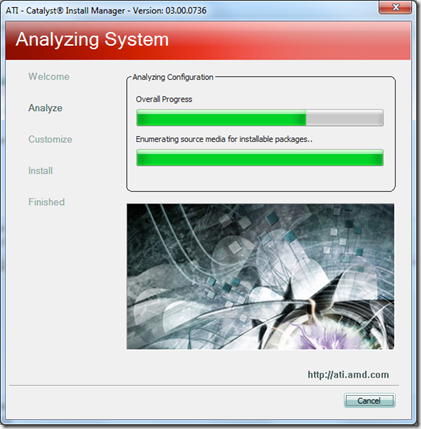 Hope this helps somebody out there.
UPDATE: The installer started up and got the place where I took the screenshot above… now 15 min. later it's still there… so it's not working 100% yet. I'll get back if I get it installed and working.
UPDATE 2: I finally got the drivers installed yesterday. Can't say exactly what I did, but what I know is that I went to BIOS and activated the PCI Express card. Then went into win7 and where then able to install the drivers. (I also found out that I had actually got some Catalyst drivers installed before, which I then uninstalled before reinstalling the new ones). Now the drivers should be installed correctly, but when I try to switch the graphics card, it just "blinks" once, and VERY quickly, but nothing happens. I'm still on the integrated card…
UPDATE 3: Lenovo update have just released an update for the graphics drivers, that Lenovo System Update told me about. I installed it, my screen died, I restarted my T500 and after that all worked fine :)
– Enjoy!